SEMA 2008 was awesome this year!! I went down to work with the boys from
Autogeek.net
in their booth at the show. Dwayne has been a close friend for seven or eight years now and this was the first time we had actually met face to face. It was an awesome time! I'd go into more details, but there is that whole "What happens in Vegas..." code that I have to obey. ;)
Here is the booth the way we had it set up. Autogeek manufactures five product lines. Diamondite, Pinnacle, XMT, Wolfgang, and Detailer's Pride. We had pretty much the entire line for each product on display at the show.
Here is the mighty Max from Autogeek! It was great working with someone I have looked up to for having such a great company. Max, Dwayne and Jason were terrific to work with! I can't wait to do it again next year.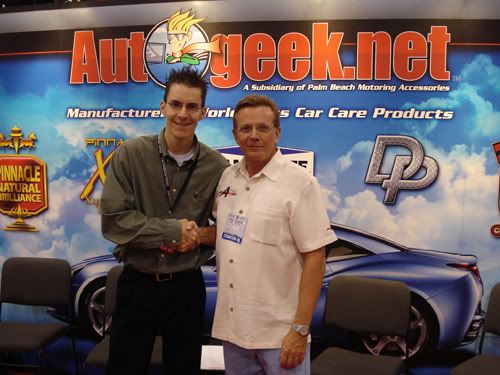 Here are Chris and Doug Lamb from
Grit Guard
. They spent the week with us in the booth demonstrating the Pad Washer and the Grit Guard. I gotta tell you, I hadn't seen the Pad Washer at work until this show, but after seeing it in action I am impressed! I will be writing a review on it soon and sharing the good word on an essential tool in detailing.
Sorry Chris. I know it isn't the best picture, but that's the one I got. ;)
You know what I didn't get? I didn't get a picture with Max, Dwayne, and Jason all together with me. Oh well... That is an opportunity that will present itself again the future hopefully.
I did manage to get pictures with other greats in the industry. Here is Barry Meguiar and Richard Griot to name a few.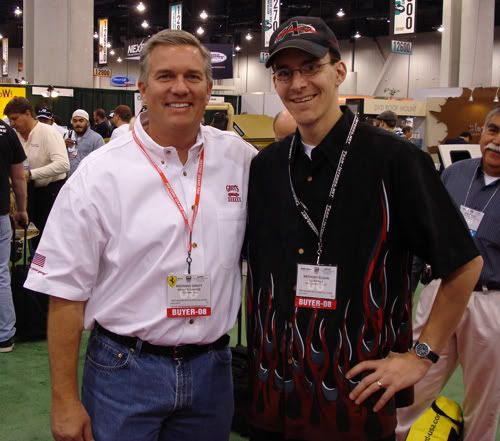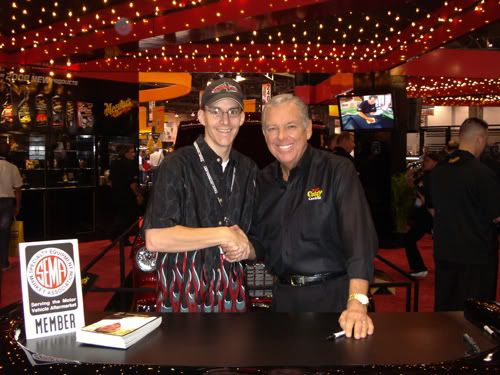 Barry wrote some kind words with his autograph for me. He was familiar with OCDetails and what I've been trying to accomplish for the last several years. It was an incredible honor to learn that someone like Barry Meguiar knew about my work.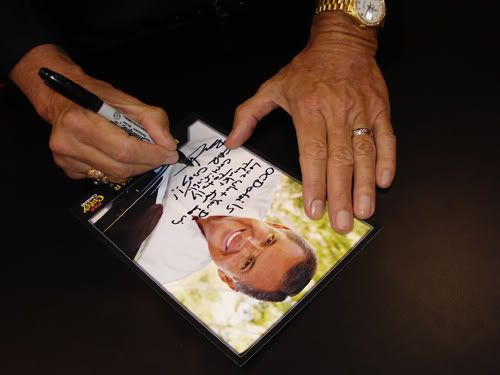 Here was another high point. Rick and Sam from Four Star Products stopped by for a visit. I designed the Four Star logo for them a few years ago and I have done a few things for Rick, but I haven't ever met him before. It was awesome to finally get to shake his hand and tell him how much I have enjoyed his products.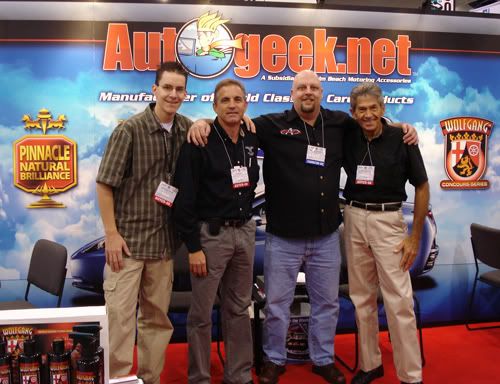 The show was just phenomenal and I had the time of my life. I will be working more closely with Autogeek in the future on some projects and I look forward to working with them in SEMA next year as well. I can't say enough about how much fun I had and how excited I am for what comes next. Thanks Autogeek! Here's to the future!